The Moderator:
Deondra Wardelle is a Senior-level Training and Development Executive. She has proven expertise in Strategic Growth Initiatives, Organizational and Leadership Development, and Lean Six Sigma Implementation. Deondra has a track record of success in being a catalyst for change and a driver of results, driven to improve processes and operations. She is an astute business strategist who is driven, engaging, collaborative and results-focused.
An inspirational leader who serves as a strategic business partner, cultural change steward and operational expert. Effectively lead change management process strategies that facilitate organizational transformation and increase overall capabilities. Possesses an inclusive management style that encourages idea sharing and inspires exceptionalism in others. Proven ability to design and deliver a comprehensive range of learning solutions which produce measurable results.
The Panelists: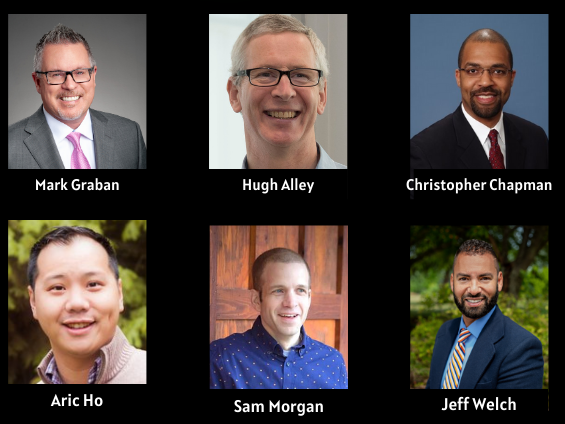 Aric Ho is driven by a spirit of inquiry and passion to make an impact. This insatiable curiosity has created opportunities for Aric in a myriad of industries, including: Healthcare, Government, Retail, Real Estate & Technology. He currently serves as the Senior Consultant & Training Manager for UW: Medicine - Valley Medical Center, serving one of the busiest emergency departments on the west coast. He also serves as the Board President of Homestead Community Land Trust, one of the largest affordable homeownership organizations in the pacific NW.
His work spans the spectrum, from helping a team of care providers connect authentically with each other, to supporting the roll out a $1.3B retail strategy. Regardless of the role or hat he has worn, he helps people and organizations perform their best by connecting their heads and hands with their hearts. He fosters a culture of equity and inclusion by simultaneously creating psychological safety whilst challenging everyone to do better.
He believes in leading with Love and considers himself an impatient optimist.
Mark Graban, senior advisor with KaiNexus, graduated from Northwestern University in 1995 with a BS in Industrial Engineering and later earned an MS in Mechanical Engineering and an MBA from the Massachusetts Institute of Technology (MIT). He is author of two Shingo Research Award-winning books, and has worked as a consultant to healthcare organizations throughout North America and Europe, teaching and implementing kaizen and other Lean management practices. He is also author of the book Measures of Success: React Less, Lead Better, Improve More.

He was previously a Senior Fellow with the Lean Enterprise Institute and the Healthcare Value Network and continues as an LEI faculty member. Mark is also the founder of the popular LeanBlog.org and its podcast series. His new podcast series "My Favorite Mistake" launched in September. .
Christopher D. Chapman is a Senior Lean Transformation Coach at Chapman Lean Enterprise (CLE) with extensive experience across a broad range of industries including manufacturing, healthcare, and higher education. Chris has over 20 years of management, quality engineering, and lean process improvement experience from Delphi, Kodak, Center for Excellence in Lean Enterprise (CELE) at Rochester Institute of Technology (RIT), Association for Manufacturing Excellence Consortium, Purdue University, and CLE. Chris has developed and delivered Lean training workshops for over two thousand trainees, facilitated dozens of rapid improvement events (kaizens), trained and coached Lean Six Sigma Green Belt and Black Belt students, and provided consultation to over one-hundred local, national, and international businesses. He was also part of a team that helped develop The Environmental Professional's Guide to Lean and Six Sigma for the US Environmental Protection Agency (EPA). After the killing of George Floyd, Chris felt compelled to use his problem-solving skill set to help combat social injustice and will soon release a Diversity, Equity, & Inclusion Lean Value Stream Transformation toolkit for organizations and business leaders seeking to create an anti-racist culture.
Chris earned a BS degree with honors in Business Administration from Fayetteville State University, and a MS degree in Manufacturing Leadership from the Kate Gleason College of Engineering, Rochester Institute of Technology. He has written articles for leading trade publications such as Quality Progress, Institute of Industrial Engineers, Occupational Hazards, and The Lean Post (Lean Enterprise Institute).
Hugh R. Alley is a white settler currently living on the unceded and traditional territories of the hən̓q̓əmin̓əm̓ (Musqueam) and Sḵwx̱wú7mesh (Squamish) speaking peoples. His ancestors immigrated to what is now called Canada as early as 1796.
Hugh is an author, consultant and speaker. His book, Becoming the Supervisor, was published in 2020. He is a registered professional industrial engineer and has worked primarily in manufacturing throughout his career. He also spent five years working in the public sector. He has run five different plants and several warehouses as part-owner or line manager. He has run his own consulting company for 15 years, and has taught core supervisory skills to almost 1,000 front line leaders. He has taught at Simon Fraser University, University of British Columbia and the British Columbia Institute of Technology and is a frequent presenter on topics of lean manufacturing, quality, supervisory skills, project management and risk management. His current practice is focused on helping companies achieve significant operational improvements in 3-6 months while significantly improving the skills of the leadership team. He consults primarily across North America.
Jeff Welch is an accomplished corporate trainer, leadership coach, writer, and public speaker with over 20 years of experience in the Learning and Development space. He has delivered training workshops, seminars, and keynote speeches for clients in the United States, Canada, Europe, and the Caribbean.

He specializes in facilitating instructor-led and virtual training courses which focus on professional development skills and train-the-trainer programming.

Jeff's training programs and speeches are well-researched and delivered in a down-to-earth, yet high energy style. Jeff utilizes storytelling techniques and incorporates various "pearls of wisdom" from his grandmother.

A proud alumnus of Western Kentucky University, Jeff holds a Bachelor of Arts Degree in Broadcast Journalism and Speech Communications. He also possesses numerous training certifications in the disciplines of facilitation, instructional design, and human performance consulting.

Jeff is President of his own consulting group, JW Training Events, LLC. A life-long Southerner, Jeff was raised in Owensboro, Kentucky and currently resides in Atlanta, Georgia. He loves to cook, travel, and read historical markers while on road trips.
Jeff is a member of Alpha Phi Alpha Fraternity, Inc.
Sam Morgan is an Operations Analyst at The Standard with a growing passion and experience for Lean and continuous improvement over the last 3 years. His interest in Lean is focused on respect for people by empowering and energizing them through problem solving and an increasing desire to coach. He is especially excited about two LinkedIn experiments: his daily vlog "90 Second Purpose" and his weekly video feature "CI in 5". He has been married to his beautiful wife Sidney for 18 years and they are blessed with three world-changing kids. He is deeply passionate about creating a creating a world where people are seen and heard no matter who there are…because everyone should be able to shine their light.