Virtual Improvement:
How to Maintain Momentum With a Remote Workforce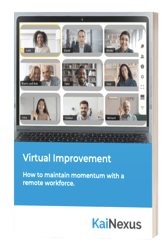 Download this eBook to learn:
How to keep a remote workforce active and engaged.
Ideas for making Kaizen events virtual, yet effective.
How (and why) to walk the Gemba even when everyone is working from home.
How to help your team be mindful of the 8 wastes of Lean while working remotely.